You know how sometimes you come across a recipe that just sticks in your mind, and you keep thinking about it until you finally cave in and just decide to make it? Well, after reading about
this
, I kept talking about it till the HTB (and quite a few other friends as well) told me to just shut up and do it. *grin* I'm so glad I did. Only thing missing was the maple cream sauce or a nice cold scoop of ice cream.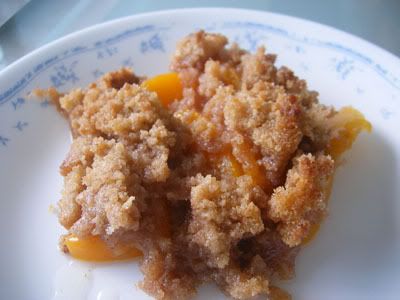 Peach Crumble
Ingredients:
1 can of sliced peaches, drained (you can obviously use fresh)
1 cup of all purpose flour
1/2 cup of castor sugar
1/2 cup of brown sugar
1 teaspoon of ground cinnamon
1/2 cup of butter
Instructions:
Preheat oven to 180 degrees celcius.
Mix the flour, castor sugar, brown sugar and ground cinnamon in a medium bowl. Cut the butter into small squares and add to the flour mixture. Mix the flour mixture and butter together until it resembles wet sand.
Place the drained peach slices in the bottom of a baking dish. Cover peach slices with the flour and butter mixture and bake in the oven for 40 minutes.
Enjoy with a scoop of ice cream.