Conversation at half past eleven this evening.
scubabunny says:
sorry i'm back
Yummy says:
where'd you run to
scubabunny says:
baked a cake
Yummy says:
at this time???
scubabunny says:
well yeah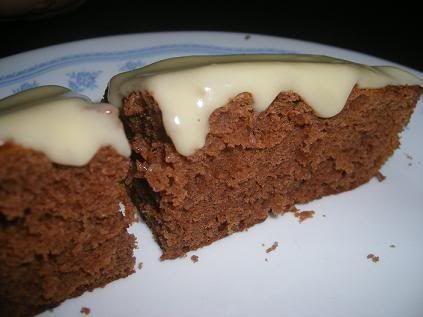 Red Velvet Cake That Is Not Red
Heehee. I've been meaning to try to bake a red velvet cake, ever since I saw it pop up on a couple of food blogs recently. One of the descriptions that I read was that it was supposed to have a tinge of chocolate taste, but not enough to make it an actual chocolate cake. Got the necessary ingredients and decided tonight that I might as well just do it. Searched online for a couple of recipes and tweaked them a bit.
The batter was surprisingly thick and very dense, and I almost regretted omitting the red food colouring from the recipe. I guess I didn't want to buy a bottle of food colouring and just use it once. So I ended up with a red velvet cake that was not red. *grin*
My sister helped with making the cream cheese frosting and she did a wonderful job of it. I don't think I've ever seen cream cheese frosting (or any frosting for that matter) look so smooth! There were hardly any lumps! *amazed* I usually give up once I get a fairly smooth frosting, and excuse myself by saying that the lumps of icing sugar will just give people happy surprises when they bite into it. Lol.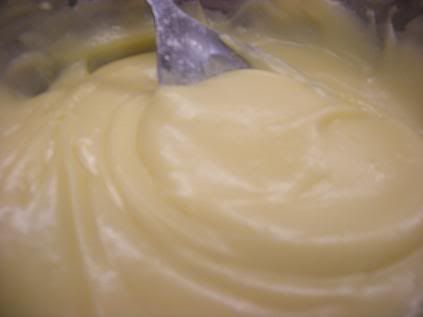 Smoothest Cream Cheese Frosting In The World
Red Velvet Cake That Is Not Red
Ingredients:
For the cake:
1/2 cup butter
1 1/2 cup sugar
2 eggs
2 tablespoons cocoa powder
1 cup buttermilk
1 teaspoon salt
1 tablespoon distilled white vinegar
1 teaspoon baking soda
2 1/2 cups sifted all-purpose flour
For the frosting:
1/2 cup butter
1 (8 ounce) package cream cheese
4 cups confectioners' sugar
1 teaspoon vanilla extract
Instructions:
1. Preheat the oven to 180 degrees celcius.
2. In a bowl, cream the butter, sugar, eggs and cocoa powder.
3. Add the salt, vinegar and baking soda to the buttermilk and stir.
4. Add buttermilk mixture to creamed butter mixture and mix.
5. Slowly add flour to the mixture and mix well.
6. Pour batter into greased pan and bake for 30 minutes.
7. While the cake is baking, mix butter and cream cheese well. Add the vanilla extract and confectioners' sugar and mix well until there are no lumps.
8. Wait till cake is cooled before frosting the cake.