Wendy and I, we're culinary geniuses, I say. Each time we step into the kitchen, we whip up something that not only impresses because it tastes so deliciously good, but also because it's so *bleep*-ing easy to prepare. Not that we're admitting that cooking is easy, of course. It's easy to
us
, because we're geniuses. But we'll help you. Watch out for our upcoming cookbook: Ridiculously Easy Dishes That Will Impress Your First Date (Of course, second dates are a whole different ballgame. Watch out for our second cookbook.)
Anyway, enough self praise and patting ourselves on the back. Here's the latest masterpiece. The picture is blurry because we were quivering with excitement over how authentic this tasted, and while we're Asian, we're definately not Vietnamese. But eating this, you can't tell!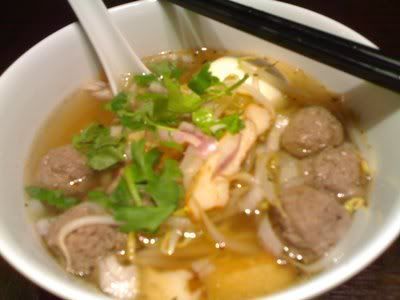 Ooh baby
Vietnamese Beef Ball Pho
Ingredients:
For the soup:
330 ml chicken stock
660 ml water
2 beef stock cubes
2 star anise
1 stalk lemongreaa
1 knob of ginger
1 stick cinnamon or some cinnamon powder
2 - 3 tablespoons fish sauce
3 cloves garlic
chilli powder to taste
For the beef balls:
200g mince beef
1 tbs fish sauce
2 tbs starch / flour
pinch of baking powder
1 tbs sesame oil
pepper and salt to taste
Toppings / Garnish:
2 pieces of fish cake, sliced
beansprouts (as much or as little as you like)
scallions chopped
cilantro chopped
basil
lime
Oh, and the rice noodles of course.
Instructions:
Boil all the ingredients for the soup in a medium pot for about 15 minutes. While boiling, mix all the ingredients for the beef balls and roll into tiny balls. Makes about 14 balls. Throw in the fish cake and beef balls and beansprouts and continue to boil to book the beef.
Soak rice noodles in hot water till soft (about 10 minutes). Drain, and add chopped scallions, chopped cilantro and basil on top of noodles in your serving bowl. Ladle soup, beef balls, fish cake and beansprouts on to noodles. Squeeze lime.
Enjoy and gloat.