Here's the recipe for the cheesecake that I was baking last night. By the time I was done, it was almost 3am! Earlier than I expected, but still very very late.
I've heard people say that once you know how to bake a cheesecake, you've attained a certain level of skill and know-how in the kitchen. I don't think this is true for this cheesecake, as long as you know how to measure and mix, and your oven is the right temperature, you're all set.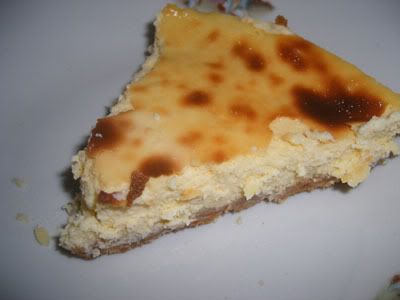 Baked Cheesecake
Ingredients:
For the crust:
1 1/2 cups digestive biscuit crumbs
3 tablespoons sugar
1/3 cup melted butter
For the cheese:
4 blocks of cream cheese, softened at room temperature
4 eggs
1 cup sugar
1 teaspoon vanilla essence
Instructions:
Preheat your oven to 160 degrees celcius.
Mix crumbs, sugar and melted butter together till it looks like wet sand. Place the mixture in a 9 inch springform pan and press down firmly.
Beat the cream cheese, eggs, sugar and vanilla essence together in a large bowl until smooth and creamy. Pour over crust.
Bake in the oven for 55 minutes until the center is set. Let it cool before putting it in the refrigerator for at least 4 hours or overnight.