The
last recipe
I used to make cornflake cookies wasn't too popular- the results were too sweet and sticky. This recipe uses flour, which helps to make everything nice and crispy when done (I think). Again, the only thing I found tiresome about making these was that everything had to be done in batches, and waiting (45 minutes! compared to 5-7 minutes in the other recipe) was quite a bore. But they taste divine- definitely something I think a lot of people will enjoy. Slurp.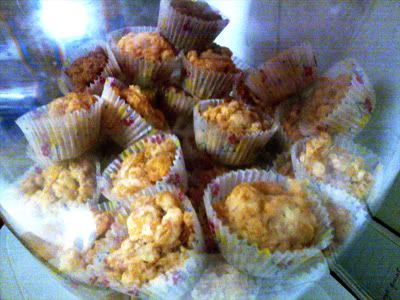 Lousy image because I took it sneakily with my camera phone. Don't want to look too weird taking pics around the house, lol.
Cornflake Cookies
Ingredients:
500gm butter, softened
8oz castor sugar
20oz plain flour
2 egg yolks
2 teaspoons vanilla essence
1 1/2 boxes cornflakes
Instructions:
Preheat oven to 175 degrees celcius.
Cream butter and sugar together until smooth. Add in 2 egg yolks and vanilla essence and continue to mix. Add in the flour and mix, and then add the cornflakes and make sure everything is mixed evenly.
Using a teaspoon, spoon out the cornflake mixture into small cupcake holders, and bake till golden brown and crispy. Approximately 45 minutes.
Cool before keeping in an airtight container.