Woohoo! Finally. So here's the recipe for beef rendang, except it isn't really a recipe with exact measurements.
Beef Rendang
Ingredients:
1 kg beef, cut into cubes
1 kg coconut milk
Fresh red chillis (about 2 or 3 pieces), chilli padi (about 3, or more if you want it spicy), shallots (about 6 pieces, I used 2 red onions), garlic (about 4 pieces), langkwas/galangal (I estimate it was about an inch long), ginger (about 2 inches long), fresh tumeric (about 2 inches, or maybe a bit less) and one candlenut.
Dried red chillis (about 5 small pieces), soaked in hot water and "squeezed" to remove the seeds.
Tumeric leaf (one piece, remove the hard middle part of the leaf), lime leaves (about 4), one stalk of lemongrass, one cinammon stick, four cloves and a teaspoon of peppercorns.
Instructions:
Cook the coconut milk in a pot / wok over low heat and stir constantly for about until the oil starts to separate.
While the coconut milk cooks, blend all the spices
except
the tumeric leaf, lime leaves, lemongrass stalk, cinammon stick, cloves and langkwas/galangal. Make sure you remove the shell from the candlenut and pound the seed before blending.
You should get a nice, fragrant spice mixture like this.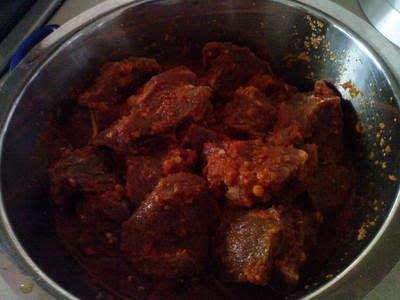 Marinate the beef cubes with the spice mixture and leave it till the coconut milk is done.
The coconut milk should start to look grainy and you can see the oil. How long this takes depends on how much coconut milk you have, but for 1 kg of coconut milk, I reckon it takes between 30-45 minutes. Remember, slow heat and constant stirring!
Once the coconut milk is done, throw in the beef. Pound the lemongrass and langkwas/galangal and throw them in as well, together with the tumeric leaf, lime leaves, cinammon stick and cloves.
Stir well and cook over low-medium heat. Cover it once it starts bubbling so that the oil doesn't splash all over the place.
Cook for a couple of hours until it's dry and you're done. I think I could have cooked this for a little bit longer than when the picture was taken, but the house was filled with the aroma of the beef rendang and we just couldn't wait.
Anyway, we started off with 1kg of beef but I'd recommend making this in large batches (3kg of beef perhaps? Just multiply everything accordingly) because beef rendang is one of those dishes that just tastes better a couple of days later. And like most malay-style dishes, this is very unhealthy so just ignore the fact that you're consuming enough cholestrol, fats and calories for your month's intake and just concentrate on how yummy everything is.