I'm so glad I
decided to go
for Jiayee's wedding today. Made plans to have lunch with Tianxiang before the wedding and we met up at Katong to have laksa for lunch. Wah, it's been such a long time since I've eaten laksa. We had a good time catching up- I think the last time we met up was when he was considering whether or not to quit his job and go into full time wedding photography. Fast forward to 7 months later, I'm so proud of what he has achieved and I'm glad he's doing well.
The ceremony was alright I guess, I was surprised at how preachy the entire thing was. But I guess that was the wishes of the couple. Pingshan, Tianxiang, Yifan, Shiwen, Yuling and Yinming turned up, and it was really good to see all of them again. The most touching moment in the entire session was when the couple gave their thanks to their parents and seeing how emotional they got.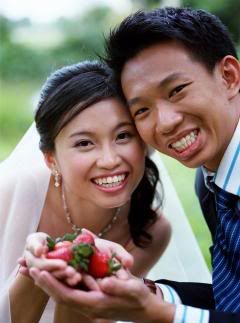 The bride was stunning.
No one brought a camera! So we don't have any pictures, except for the group picture taken by the bridal photographer (which I'm not sure if we'll get). Interestingly, as I was leaving after taking the photo, the photographer looked and me and said I looked familiar. I said I was the bride's ex-classmate and was shocked when he asked me if my name was Bona. Turns out he remembers me from when I used to go to church when I was in secondary school! Amazing.
Didn't stay for the reception and headed to Suntec with Pingshan to catch up. I think it's been 8 years since we last saw each other- how fast time has passed! We had cake and drinks at NYDC and chatted for hours. Funny how you can still be close even thought you've lost touch for so long.
All in all, I had a good time despite being tired from the few hours of sleep I got the night before. It's so interesting to see how different our lives are and how far we've come from our innocent secondary school days more than 10 years ago. Who would have imagined that we'd be where we are today. Everyone is getting married, having babies. We're adults now!