It's already December! Every time this year, I seem to say the same thing. It's amazing how fast time has passed.
Anyway, I finally got a haircut today and I must say I like it. The stylist who cut my hair actually noticed that my hair was finer than it used to be (and it was my first time going to that salon!) and that I had an oily scalp which was probably cause of all that hair loss.
He gave some explanation about why my hair was falling (can't remember much though- we were speaking in Chinese) and gave some suggestions on how to manage the problem. If I recall correctly, my hair loss had to do with 1. stress 2. oily scalp 3. wrong hair products.
I never knew that we should shampoo our hair twice each time. He called it 2 layer shampooing, or something. Once to wash away dust and grime, and once more to really make sure that the scalp is clean.
And he also advised me not to sleep with wet hair (I don't anymore but used to) because it will encourage the scalp to become more oily. Thankfully there are lots of baby hair, which means that my hair follicles aren't dead and that hair is still growing. *phew*
Well, eventually I got me some shampoo that is supposed to be good to prevent hair loss. Sigh, so young and balding already. It wasn't the one he recommended but I'll just try it for the time being and see how it goes.
Here's a picture of me right after my haircut. I was walking around waiting for my sister to get off work so we could have dinner together.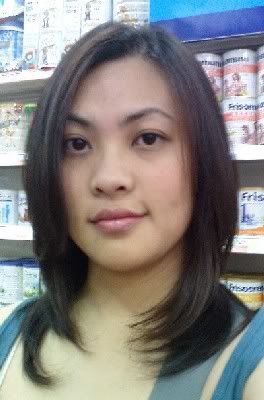 Anyway, check him out.
Tony Chiang (Day off: Wednesday)
Stylist
Creative Salon
1 Maritime Square
#02-113 HarbourFront Centre
Singapore 099253
Tel: +65 6273 0308 / 6273 0311